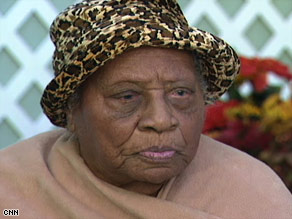 CNN.com
reports the new oldest woman in the world is Gertrude Baines, an African-American woman. She is 114 years old (born in 1894). She recently cast her vote for Barack Obama and spends her time eating/sleeping. She was a House Mom at a State University before retiring.
I love how women of color age gracefully...thank God for melanin and being naturally tanned. :-)


Take care of yourselves Ladies...

Oh and just because you are naturally tanned does not mean you can go without sunscreen. Take care of that beautiful skin!

Peace.